LLast year, according to the Annual Report on Observed Releases of 52 Harmful Mineral Oils in the Waters of the HELCOM Countries by Air Monitoring in the Baltic Sea 2021 Monitoring Spills 1989, 763 pollution incidents were reported.
"The declining number of harmful pollution in the Baltic Sea is likely the result of intensive aerial surveillance, even though ship density has increased. It acts as a deterrent, as the ships know that they are under constant surveillance," comments Markus Helavuori, technical secretary of HELCOM.
Over the years, air surveillance activity in countries has improved significantly. For example, onboard aircraft remote sensing devices and satellite monitoring are being put to good use to enable greater area coverage and optimization of flight effectiveness. While in 2021 covid-19-related and technical staff shortages led to a decrease in annual flight hours, the high number of annual flight hours was maintained overall.
Aerial photographs of oil spills have been taken by HELCOM contracting parties for several years using standardized methods and cover almost the entire Baltic Sea. For this reason, it was an integral part of the HELCOM indicator on oil spills affecting the marine environment and confidence in the indicator's assessment was considered high. The update of all HELCOM indicators will be completed shortly as they form a fundamental part of the next holistic assessment of the Baltic Sea (HOLAS 3) to be published in 2023.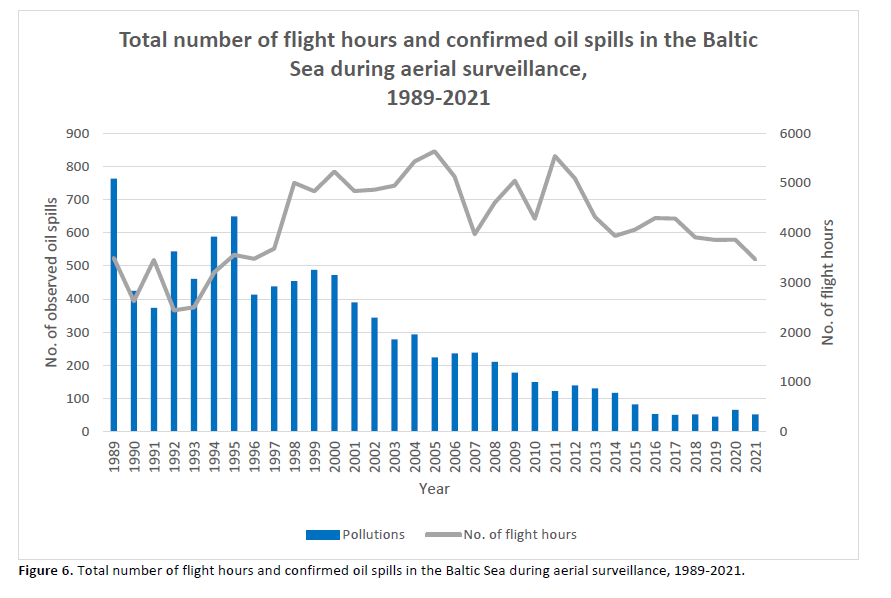 Collecting data on the frequency, size and nature of such releases is crucial for understanding the environmental impacts of different types of substances on the Baltic Sea. Of the 52 petroleum spills identified by air in the Baltic Sea in 2021, the overwhelming majority (98%) were smaller than one cubic meter (1m3) – small amounts of spills detected is another long-standing trend.
Interactive dashboard on observed discharges in the Baltic Sea (1998-2021)
The HELCOM Secretariat has developed an interactive data visualization dashboard to provide users with a more open and analytical insight into the air surveillance dataset (the dashboard is accessible here). This dashboard presents data on detected petroleum spills in the Baltic Sea from 1998 to 2021. From 2014, reporting on releases of other substances and unknown substances is also included. The dashboard was developed with "Power BI", a data visualization software from Microsoft.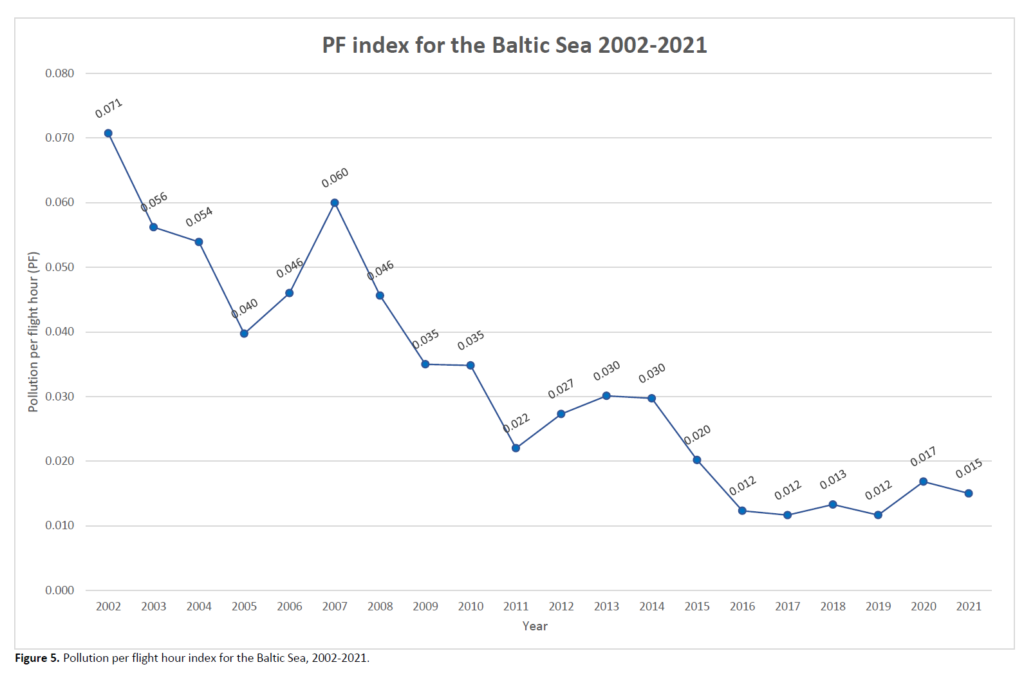 The dashboard is interactive, which means users can filter data based on areas of interest. Users can drill down into the dataset simply by selecting a data field from the visual, drop-down list, or card.
About air surveillance for leaks in the Baltic Sea
Leak surveillance, currently coordinated by the HELCOM Informal Working Group on Aerial Surveillance (IWGAS), began in 1989 to detect petroleum spills. Since 2014, releases of other and unknown substances have also been included in the reporting, including rubbish, rubbish and floating objects. Spills of unidentified chemical substances and novel types of fuel require special attention to improve detection and response capabilities, especially given the increased accident risks due to increased shipping traffic and extreme weather conditions due to climate change.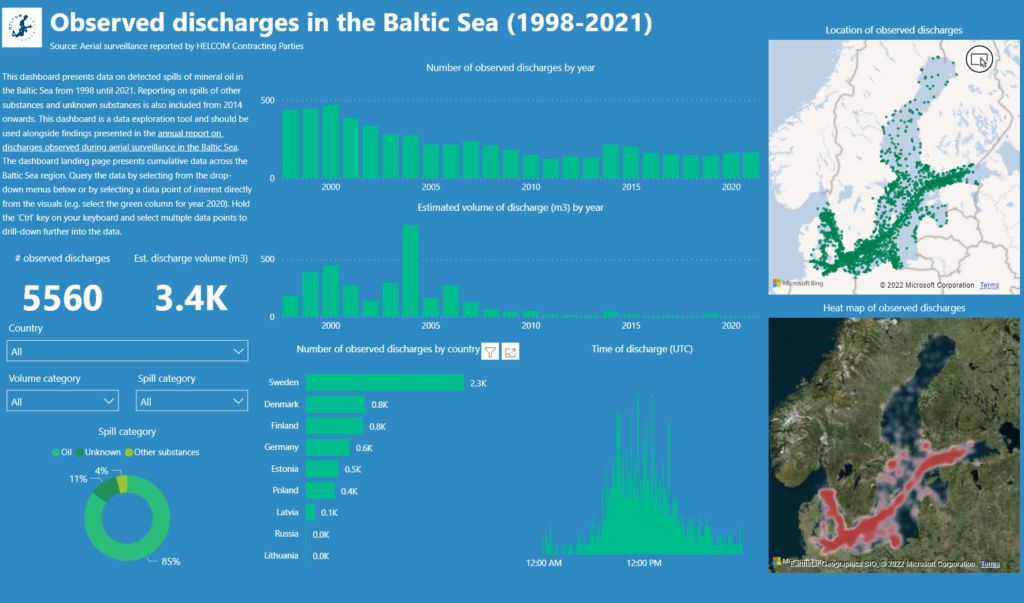 Through the Helsinki Convention (Article 14, Annex VII, Rule 7), the HELCOM contracting parties – the nine Baltic countries and the European Union – have agreed to monitor pollution incidents and spills and "to make the necessary assessments of the situation and [taking] appropriate response measures to avoid or minimize subsequent pollution effects."
HELCOM Recommendation 34E/4 also recommends regular aerial surveillance of the entire Baltic Sea region, developing and improving the existing remote sensing systems and coordinating surveillance activities that take place outside territorial waters.
Source: HELCOM (https://helcom.fi/aerial-surveillance-and-regional-cooperation-remain-key-in-detecting-oil-spills-in-the-baltic-sea/)