AIR BASE YOKOTA, Japan — A Marine family is unhappy with Air Force Air Mobility Command over the death of their dog July 1 on a flight to Okinawa on the Patriot Express.
Tiny dog ​​Kolbie was found dead aboard the plane as it arrived at Marine Corps Air Station Iwakuni, Japan, after a 12-hour flight from Seattle and a stopover at Yokota Air Base in western Tokyo. According to a July 4 Facebook post by Amber Marie Panko, Kolbie's owners last saw Kolbie alive in Yokota, an airlift hub, ahead of the hour-long leg to MCAS Iwakuni.
An autopsy revealed the dog, a 10-year-old Pomeranian mix, died of heat stroke, Gunnery Sgt. Christopher Panko told Stars and Stripes by Facebook Messenger on Thursday.
Amber Panko wrote that Kolbie was left outside in the heat while in Yokota. "He sat in an open garage in 100 degree weather for an hour before boarding and sitting in the cargo in well over 100 degrees for over an hour," she wrote.
Christopher Panko, a native of Erie, Pennsylvania, and an engineer with Marine Corps Installations Pacific on Okinawa, said a lieutenant colonel with the 730th Air Mobility Squadron in Yokota contacted his wife about Kolbie a week later.
"It was. No one from actual AMC command," he wrote. The lieutenant colonel said he was sorry and "knows he should have reported earlier," Messenger's Christopher Panko said.
A senior non-commissioned officer with the 730th Squadron referred Stars and Stripes to Air Mobility Command in Hawaii, but a spokesman there could not be reached Thursday. The command said on its official Facebook page early Thursday it was investigating the incident and trying to contact the family.
"First of all, we would like to send our deepest condolences to the family on the loss of their beloved dog, Kolbie," the post reads. "AMC's airport specialists take seriously the responsibility of maintaining and enforcing established pet transportation protocols while in our care. We are working diligently to contact the family to reconstruct what happened, identify potential problem areas and develop actions we can take now to mitigate a future incident."
Amber Panko said in an update to her original July 4 Facebook post that the command has yet to contact her seven days after her dog's death.
"I know a lot of you have asked for updates, and up to this point I've tried to give them the opportunity to just do the right thing," Panko wrote. "That does not happen."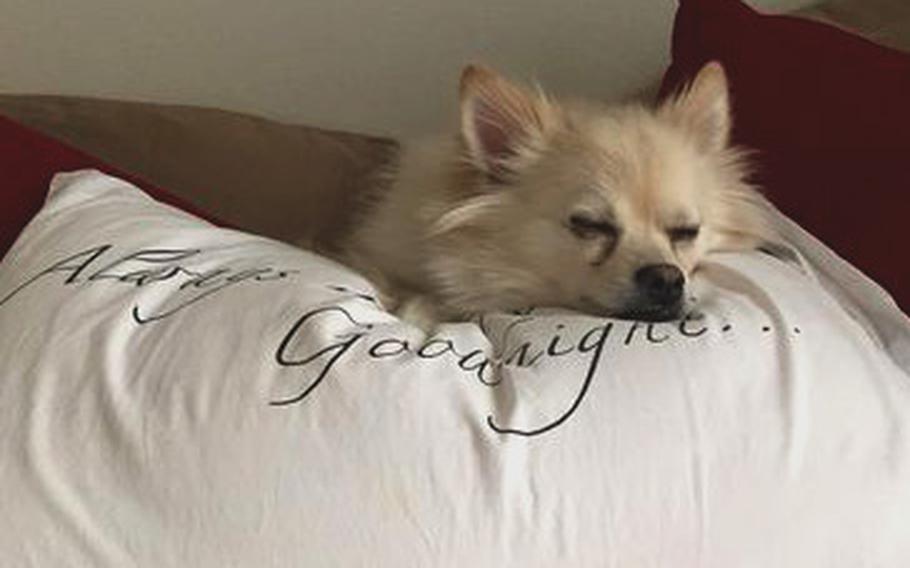 "Wag Your Tail"
According to Amber Panko, the Pankos, their three children, and Kolbie departed Seattle for Okinawa around 9 a.m. on June 29 on the Patriot Express, a government-commissioned air service that connects the United States with bases overseas. The family moved from Camp Pendleton, California to Gunnery Sgt. Panko's new duty station on Okinawa. According to Amber Panko, their flight reached Yokota about 12 hours later, on July 1.
She had given Kolbie trazadone before leaving Seattle, Amber Panko wrote. Trazodone, a prescription sleep aid, also works as an anti-anxiety medication for dogs, according to Veterinarians.org. In Yokota, the Pankos pulled Kolbie off the plane to relieve him, she wrote.
"He was perfect! He's wagging his tail and so excited to see us," she wrote. "We asked if we could take him to the station because it is air conditioned and they told us no, the animals are not allowed. We were able to relieve them at the animal sanctuary in front of the building and give him food and water, but they were not allowed inside the building."
Tokyo battled through a heat wave, recording a high of 95 degrees Fahrenheit that day. The temperature was hotter on the Yokota Airline, Panko wrote.
"Just devastated"
After the break, Kolbie was left in the heat for another hour before getting back in, according to Panko's post. At MCAS Iwakuni, someone asked about Christopher Panko, and Amber Panko "knew something was wrong…"
Kolbie had died. "I could have fallen right then. For some reason I was still telling myself no, my baby is fine."
She saw her husband in tears leaning over a rail in front of the plane.
"My family and I were just devastated," said Christopher Panko on Thursday. "My wife is really at a loss and it ended up being her dog."
Amber Panko said in her post that she spent several minutes in a cold room with Kolbie and said goodbye. A flight station vet said the body had to be left behind for autopsy, Panko wrote.
"He looked so sad and scared in his eyes. I could tell he was suffering," she wrote. "Some might think it's ridiculous that he's just a dog, but he wasn't… For ten minutes I sat in a cold room sobbing and begging that this wouldn't become a reality."
Christopher Panko said he hopes Air Mobility Command will allow travelers in the future to bring their dogs out of the heat and avoid bringing animals on planes for long periods of time in hot temperatures.
The Air Mobility Command said in its statement it was closely investigating the incident.
"The family deserves to know exactly what happened," the statement said, "and we need to better understand how to prevent this from happening in the future."