The IDW-Verlag starts a new ongoing My little Pony Comic series in May with a new cast of characters and some well-known creators.
My little Pony #1 will feature the characters from the Netflix film My Little Pony: A New Generation, who debuted last year (see "'My Little Pony' Goes to Netflix"): Sunny Starscout, Izzy Moonbow, Zipp Storm, Pipp Petals and Hitch Trailblazer, known collectively as the Mane 5, and their sidekick Cloudpuff, a fluffy winged spitz . The plot of the first arc involves the search for a stolen Unity Crystal, without which Equestria will lose its magic.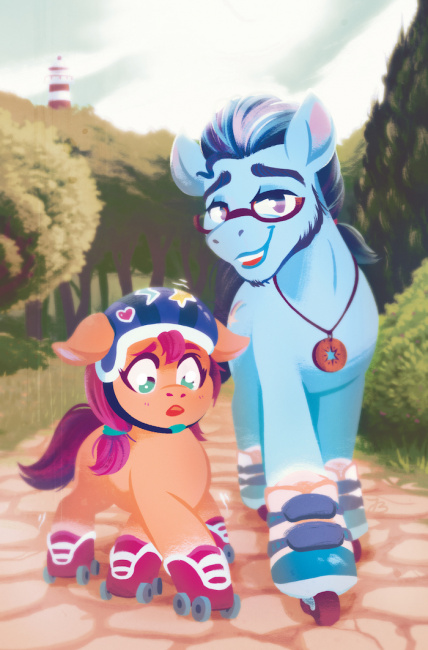 The creative team for the new series consists of writer Celeste Bronfman and artist Amy Mebberson, both of whom worked on the series My Little Pony: Friendship is Magic. The first issue will have a main cover by Mebberson, a variant cover by JustaSuta, and a dealer incentive variant by Brianna Garcia.
IDW settled his My Little Pony: Friendship is Magic series last year (see 'My Little Pony: Friendship Is Magic' to End with Issue #102′) and followed with a new mini-series, My Little Pony: Generations. The publisher lost two more Hasbro licenses, for GI Joe and Transformers, but stated at the time that it would continue to produce My Little Pony and dungeons Comics (see "IDW's GI Joe and Transformers licenses to close at year-end").